This post is dedicated to all of the pirates, renegades, rebels and provocateurs out there! Check out one dude's
adventures in videostreaming...
MORE adventures in videostreaming ::: Check out a youtube video after 1000 uploads/downloads/uploads
This is an artist who thinks outside the box
, like
M.I.A.
, perhaps?
TruffleGate: The New York Times
stands by
its
M.I.A. Story...
It has been said that there's always more to art (and the artist) that meets the eye... I knew I was onto something when I dreamed what I call my "MiaCollision" dream. I was perusing YouTube, checking out Mia interviews. That's when I discovered M.I.A. began her so-called "public life" as an ARTIST, y'know, the paint'n'brush variety. The lights went on. Some researchers have found the dream world mirrors reality in that it often picks up information that may have gone unnoticed as well as information that could be drawn from inference.
Example: you're on the bus. There's an ad for "Stop smoking." You look at it (but you don't really "see" it - you haven't paid attention and if anyone stopped to ask you what ads were displayed inside thebus, you would have no recollection.) That night you have a dream that involves smoking. As your mind rewinds during sleep, the visual data picked up deep in your little brain was played back as "smoking" or perhaps a smoker in your dream.
Example #2: a co-worker happens to be the thief who has been spiriting away office supplies. Little "cues" that your conscious mind overlooks are registered in your brain and played back in a dream where that co-worker is portrayed as someone who cannot be trusted.
I'm thinking my brain picked up on M.I.A.'s artistic roots in some similar fashion... anyway, now that that makes sense (at least to me) it only makes more sense to revise and update that previous dreampost...
Don't laugh when it comes to dreams - they can have deep meanings and wide implications. Like this:
.

..the most unforgettable dream of my life.





In it, I was in a grassy outdoor place, it was summer, and I was with a tall, thin young man with sandy-coloured hair. His name was Tim - possibly Tim Leighton, but I'm not sure. I thought of him as Tim L. We seemed to be good friends.





As I walked away from him, I felt that something remained unfinished between us. I returned to say goodbye and we kissed. I seemed to inhale him into me in the deepest breath I had ever taken. I felt like Tim and I would be together for ever. When the dream was over, something had changed.





I woke up knowing that Tim L was my donor and that some parts of his spirit and personality were now within me.





I wanted to check this information, but the transplant programme observed a code of strict confidentiality...




(skip)




He said he'd been moved by my story and - bizarrely - had had a dream in which he saw my donor's obituary.





Together, he and I decided to go to Boston (the nearest city to the accident) and search the newspapers for my donor's obituary. Fred was already there when I arrived, scrolling through the newspaper for the week of my transplant. We soon found the item we were searching for - an obituary for an 18-year-old who had died in a motorcycle accident.





His name was Timothy Lamirande. My dream about "Tim" was true after all...

read all
Years before Maya Arulpragasam ever picked up a microphone or a drum machine she studied fine art, film, and video in London.
Here, for the first time, she began to piece together some of the different strands of her life experience. In an early incarnation of what was later to become M.I.A., she learned how to play off her different cultural personae against each other; layering rap iconography with the warfare pictures from her youth, Asian Britain with American new-wave film making style and St. Martin's fashion sense with refugee outlooks.
A successful art career beckoned and, for a while, seemed to be Maya's destined path. Her first-ever public exhibition of paintings in 2001 at the Euphoria Shop in Portobello, London, featured candy coloured spray-paint and stencil pictures of the Tamil rebellion movement. Graffitied tigers and palm trees mixed with orange, green and pink camouflage, bombs, guns and freedom fighters on chip board off-cuts and canvases. The show was nominated for the Alternative Turner Prize, every painting sold and a monograph book of the collection was published by Pocko (which was simply entitled M.I.A.).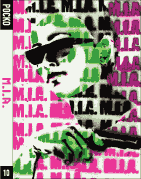 Maya arrived in London in 1985 at the age of ten, as a war refugee from the Tamil struggle for freedom in Sri Lanka in which her family was closely involved. At that time she only spoke two words in English that were perhaps prophetic of the clash of cultures she was destined to navigate, "Michael" and "Jackson". Published by Pocko Editions, available in October 2002. ISBN: 1-903977-10-X
The official
Pocko
site is sold out of the book, but you can buy it
here
and get more info about it
here
.
Pull Up the People
has lots of cool M.I.A. footage for download.
I had a dream that I created a mash-up post where the world of Swedish artist Mia Mäkilä collided with the persona of Sri-Lankan rapper M.I.A. I told Mia about it, and asked if it would be okay if I desecrated one of her artworks in a valiant attempt to drag my dream out into reality. She said yes, so here it is. Mia's original work is titled Marching Band. Let's call this one Rapping Paper. If you want to listen to M.I.A., click on the picture. If you want to visit The Wonderland of Mia Mäkilä,
I'll take you there.
..:::This is oNlY a TeSt:::..
Don't try this at home. I did, using an old 386PC equipped with Microsoft Paint. I would be a monster if I had Photoshop at the time... first time I ever sat down and played around with images like this, and only because of that darn dream!
Arular