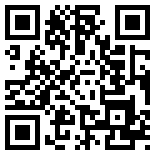 Move over, Google +1
:::
Are

QR codes

the next big things for bloggers?
Try it out:
GET ONE
!
QR is short for "Quick Response" - the codes can be read via any smartphone equipped with a reader. The one you see here is the one for my blog, which will soon appear in the sidebar. I love new widgets, services and technology, and June 2011 seems like just the right time to add QR code and some new HTML code, as you will read below!
Bloggers, you may want to pay particular attention to this :::
PR in an SEO context doesn't just mean PageRank. It means public relations
.
Have a
look at Authorship HTML code
.
I'll be hopefully rolling this feature out later in the month. I have a few big surprises in store for you, so keep stopping by!
Now, onto the greater blogosphere:


Syria: 'Gay Girl in Damascus' Seized
Amina Arraf
has seen a quick rise to fame. Blogging pseudonymously, as
Amina Abdullah
, she writes about politics, the recent uprising, and being a lesbian in Syria. A dual citizen of the United States and Syria, her powerful words have shown the reality on the ground in Syria over the past few weeks. On Amina's own blog, it was reported that she had been kidnapped by authorities. Arraf is hardly the only blogger to be arrested recently in Syria, of course. Twenty-year-old Tal al-Mallouhi
was jailed in February
on "espionage" charges;
Ahmad Abu al-Khair
was
arrested a few days later
while traveling from Baniyas to Damascus;
Khaled ElEkhetyar
disappeared for a week in March; Egyptian-American blogger
Muhammed Radwan
was detained later that month
... Carlstrom goes on to say he talked briefly this afternoon with
Sandra Bagaria
, a close friend of Amina's living in Montreal, who said she didn't think either of those two facts played a role in Arraf's arrest.
(Details)
U.S. Court says 'shield law' not applicable to 'bloggers'...
Hrna [fa], Human rights activists news agency, reports [fa] that Ali Pour Soleiman, a blogger and teacher was arrested in Iran a few days ago. He was a member of Association of Teachers and wrote [fa] in Sokhane Molem (means teacher's word) blog.

Caledoniyya complains there isn't much information about Mikel Nabil - an Egyptian blogger sentenced to three years in prison for insulting the Armed forces. "With so many bloggers being persecuted by the regimes for broaching crucial issues; in Nabil's case, the Egyptian military; it can be a challenge to keep track," she notes.

Womanish Words
congratulates Trinidadian
Simona Lee
, "creator of the blog 'Women Speak: Women Tell Their Stories of Discrimination,' for being chosen to receive a 2011 Internet Activist BlogHer Scholarship."
Tags: Amina Arraf, QR Codes, Al Jazeera, Amina Abdullah
Permission to reprint this blog post in whole or in part is hereby granted, provided that the author (or authors) and Dave Lucas are properly cited. Permission to reprint any comments below is granted only for those comments written by Dave Lucas and staff.