UPDATE DECEMBER 11 2013 ::: Google gives up #YolandaPH
::: "Person Finder is no longer managing records for Typhoon Yolanda. All records will be deleted on 12/20/2013."
UPDATE 27 NOVEMBER 18:44 :::
You need to read this excellent article that explains why Tacloban died.
"They had simply failed to imagine a storm so large."
Tomorrow, I will resume "normal blogging" whatever that is. Never forget Tacloban in your hearts and in your prayers.
Field Blog from Tacloban - A little girl in a whit...
You may have arrived here after relentlessly searching the likes of Google and Bing. Welcome!
Madonna once sang "Life is a mystery... everyone must stand alone..." Simple, pure and true words - paraphrasing the fact we are born and we must die. It is the journey along the way, the people we meet or who meet us thru things we have written or accomplished, that is the most telling. The Bible offers an example of that in the story of Jesus carrying the Cross. Each one of us carries a burden of one kind or another, as we move toward our final destiny.
UPDATE 24 NOVEMBER 08:11 :::
5,200 dead 1,600 missing. Haiyan also damaged or destroyed 1 million homes, displacing more than 3 million people.
Canadian rescues Filipina fiancée from typhoon; marries her
Filipino typhoon survivors cheer Pacquiao triumph
– San Jose Mercury News
WARNING ::: Disturbing content -->
A look at what happened to some of the typhoon victims who were unable to defend themselves.
HENRY CURTIS blogs a few
Lessons from Typhoon Haiyan (Yolanda)
UPDATE 24 NOVEMBER :::
As the USA gets ready for Thanksgiving later this week, I'll borrow a quote from a news article:
"Material things don't matter. Family is what matters."
Friends, the Blessings you have today could be gone in a flash.
Deseret News journalist Jesse Hyde and photojournalist Ravell Call have spent the past week reporting from the Philippines in the aftermath of Typhoon Haiyan. This is their final report from the scene.
Still searching for news about people and places, friends and family in Tacloban and surrounding areas? Don't stop until you find what you're looking for. It may take time. If you are a prayerful person, pray for those whose earthly lives ended November 8th.
UPDATE 22 NOVEMBER :::
ABS-CBN PHOTO GALLERIES
Want to know who have evacuated to Cebu City? Check this site ---
http://
finder.cebucity.gov.ph
/
UPDATED NOVEMBER 21 :::
The devastation across Tacloban City is almost unbelievable
. For many of us, there is not much we can do to help outside of donating to the Red Cross or other charity. Banks are re-opening with limited transactions. Many good people who survived did so with the clothes they were wearing. They lost identification cards and papers. Is that not like losing your soul?
Search
- See more at: http://familylinks.icrc.org/yolanda-typhoon/en/Pages/Home.aspx#sthash.QehTo5o9.dpuf
When I toss a little uneaten food in the garbage, I know it is impossible, but wish there was a way I could have sent it on to a hungry soul trapped there in PI. In the U.S. even the poorest among us have so much and so much more to be thankful for. In Tacloban there are still bodies to retrieve and identify along with shell-shocked people who need aid and care. If all you can do is say a prayer or send a good vibration out to those folks, do it now.
Again, if you are looking for friends or family and so far nothing has turned up, be patient. Look for them on social media. There are "facebook stations" that have been set up in some areas where people can log in to their accounts for a few precious moments to simply let the world know that they survived. It may be weeks yet before everyone is able to do so. You saw how bad things were on TV, so just send them your prayers and be patient.
Today I changed the post date from November 11 to November 21, so this article will stay "on top" and be the first that one encounters when landing on this blog.
UPDATED NOVEMBER 20 :::
It's been nearly two weeks since Typhoon Haiyan murdered Tacloban City. The disaster is far from over.
Bloggers, please help support the ongoing Philippine relief operations. I know many of you have already done your part. But please, thousands of people have lost their homes, friends and family members. They have no bed to sleep in, no job to go to. Many have no identification papers, no mobile phones, hoping each day to see or hear from someone they know or love. More support is needed for rebuilding Tacloban City and for the rehabilitation of the survivors.
I encourage you too to spread the word by actually writing a post about it. Just one post wouldn't ruin your blog (and it's not even because it's out of topic).
You are a blogger. You can do more than just tweeting. This is one of those cases where 140 characters doesn't do justice.
Offer what you can. Even if you have just 5 readers a day, that's five other people who might do something too! And what if you get a hundred views a day, or thousands (calling those A-list bloggers)?
Here's an opportunity for you to raise your little blog up a notch: you can actually do something that's even greater than getting a bunch of "hits." You can hep people survive.
Surreal Photo of Typhoon survivors at a religious procession
pic.twitter.com/RdGillSxoB
| via
@
AFPManila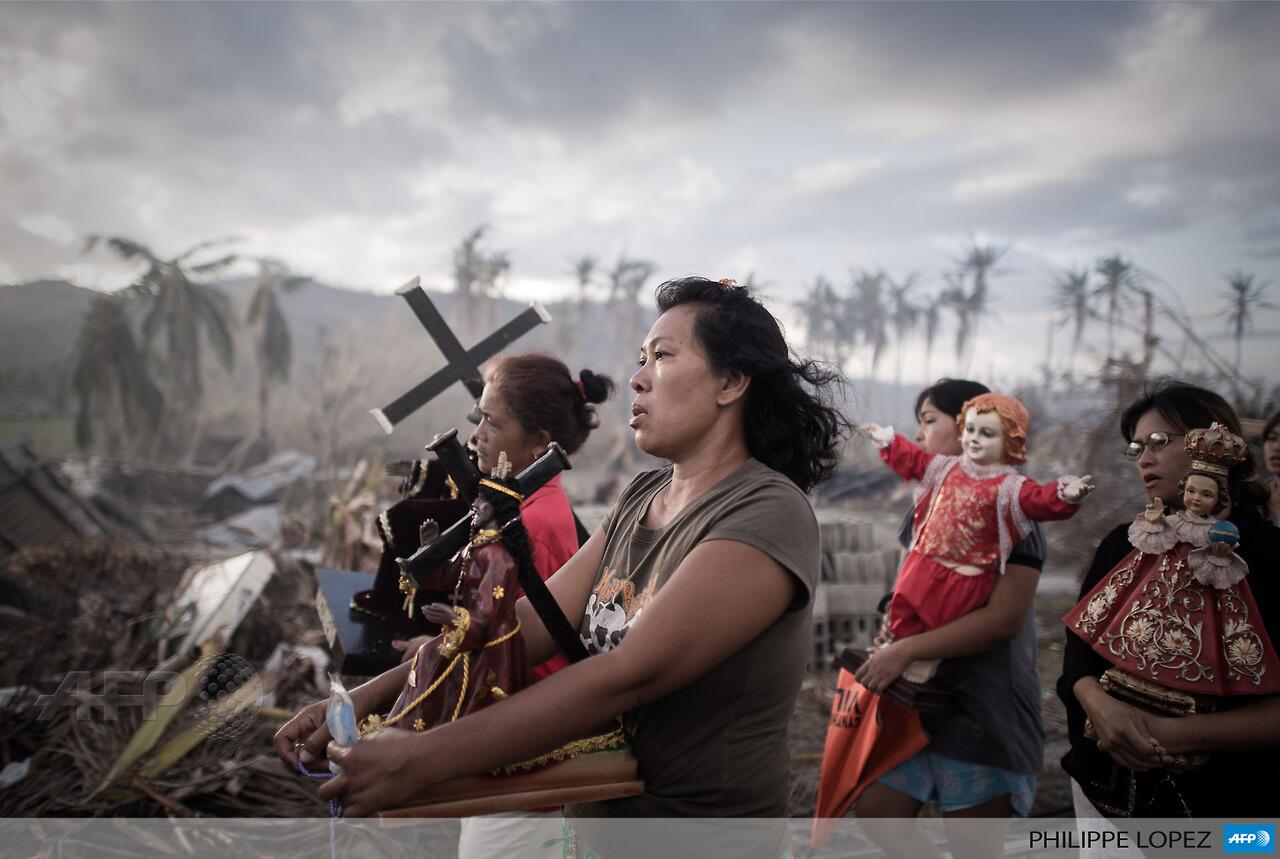 UPDATE NOVEMBER 19 :::
Moved more important links up; added youtube video of ATMs repopening in Tacloban City.
Mobile version is available. In PI? You can also search with SMS by texting 2662999 (Globe), 4664999 (SMART), 22020999 (Sun), or +16508003977 with the message Search [name]. For example, to search for Joshua, text Search Joshua
Share:
Looking for loved ones?
The Philippine government's
official website
provides updates of the impact of Haiyan and relief activities. Those looking for missing relatives or friends can seek help through the
Google Person Finder
and the Philippine Red Cross
tracing form
. Meanwhile, the government has uploaded a list of
deceased persons
in the typhoon-ravaged
provinces
.
The following list from the National Disaster Risk Reduction and Management Council was recently released, containing names of over 12,500 people injured. (
Download the PDF file here
)
UPDATE NOVEMBER 17 11:15am NY Time

:::
It's been more than a week now since Haiyan hit the Philippines. I'm preparing to get back to "normal blogging" (whatever that is) sometime this week.
I have updated my WordPress blog
, so feel free to check in with me there.
As far as the typhoon goes. I've done all I can do for now, and many of the world's nations are pitching in to help the folks there in PI. From here going forward, for those seeking news of "lost" friends or relatives, it's a waiting game. I mentioned in my WP post that the first place to look for "signs of life" is on social networking sites, especially if the person(s) was active on facebook or regularly updating a blog. If you believe in God, pray for them.
Sent from
my BlackBerry
®
If you have the capacity to give, please do. Google has a list of places accepting financial contributions:
http://bit.ly/1bnGEuN
U
PDATE 9PM NOVEMBER 14 :
::

Added #TracingPH
US Cellular providers Sprint, AT&T and Verizon are offering free calls and texts to the Philippines through November 30 for customers trying to contact friends and family there in the wake of Typhoon Haiyan.Check you carrier for official details.


UPDATE THURSDAY NOV 14 :::
MANILA - ABS-CBN has compiled a
list of survivors
in areas affected by super typhoon "Yolanda."
The list is based on the updates from DZMM, Bayan Mo iPatrol Mo (BMPM) and Google People Finder.
To access the complete list, go to the
ABS-CBN Tulong Page
, click on the Find Tab and then click on List button.
UPDATE 9PM New York time November 12
GMA News has compiled video clips of Typhoon Yolanda survivors caught on our cameras in Iloilo, Aklan, Mindoro, Samar and Leyte. If you're looking for someone who may have been affected by Yolanda, watch the videos to spot any familiar faces.
You may also see screengrabs of the same faces by
viewing this Facebook album.
UPDATE NOVEMBER 12

- Hold onto your heart when you click this link.
TO donate to the Disasters Emergency Committee's Philippines Appeal, visit www.dec.org.uk, call the hotline on 0370 60 60 900, or go to any high street bank or Post Office. You can also donate £5 by texting the word SUPPORT to 70000. Stay up to date with developments at www.twitter.com/decappeal or at www.facebook.com/DisastersEmergencyCommittee